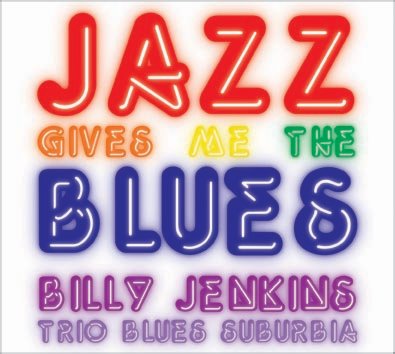 Billy Jenkins Trio Blues Suburbia
released on CD and download
VOTP Records
July 5th 2011

~


Lounge core lived. Core Lounge delivered.
Vacuum to it. Iron to it. Eat to it. Love to it.
Jazz gives me the blues.

Incense. I ching. We give. We bring. Be Bop. Flip Flop.
Breathe in.
We sing.
Jazz gives me the blues.

Toe Rag Blues. Dirty shoes. Jazzed up rust.
In jazz we'd trust.
Turned to rust.
Lust gone bust.
Nothing's new.
Jazz gives me the blues.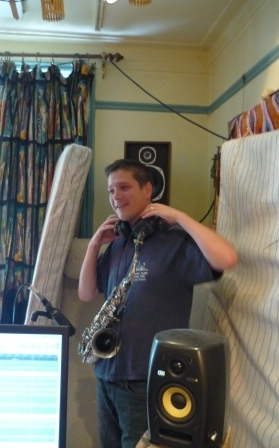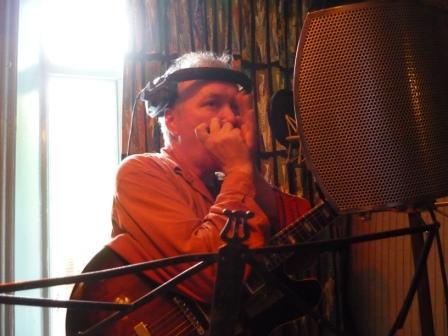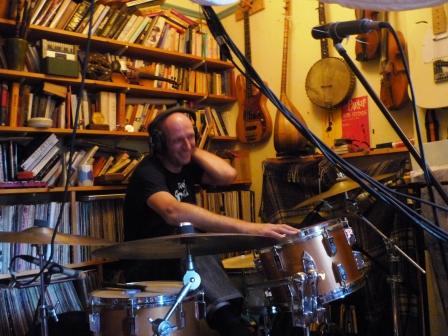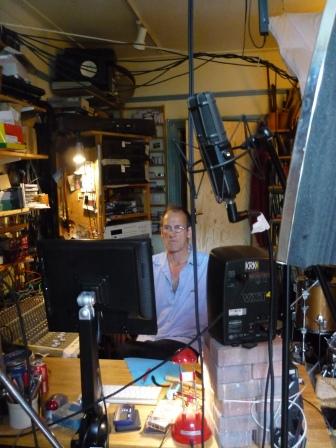 Billy Jenkins – electric guitar, voice, harmonica
Finn Peters - alto saxophone & flute
Jim Watson – NORD organ
Mike Pickering – drum kit
~
Jazz Give Me The Blues

I'm Just A Lucky So And So

For All We Know

Black Coffee

Do Nothing Till You Hear From Me

God Bless The Child

Travellin' All Alone

I Ain't Got Nothing But The Blues
~


Recorded and produced by Charlie Hart in one take instant time and space
on 26th July 2010 at Equator Studios, London SE4
BLUES IS THE NEW JAZZ
~

JAZZ GIVES ME THE BLUES
official press release by Mike Gavin:


July 5 2011. Billy Jenkins turned 55.
What could be more appropriate than a retro 'Fifties late night jazz album - a celebration
of that thing called jazz - another cliché in the land we call jazz.


NO!! STOP!!!


We don't want no more of that groovy dinner jazzy
lounge piano soft-focus wide screen smooth talking tasteful jazz thang.
Man, jazz gives me the blues! Jazz is the blues.
Blues is the new jazz.
After years of following the jazz rainbow Billy saw the light way back in the nineties and formed a blues band
(the marvellous Blues Collective and then the recession proof Trio Blues Suburbia).
Adding a vocal element to his music allowed Billy to confront those perennial blues issues: dogs (he don't like 'em),
parents (ditto), tea (very much in favour), Cliff Richard (no position at all really but he did meet him once)
and the Duke (just can't get enough).
So maybe moving away from jazz brought him back to a renewed appreciation of those hoary
old numbers we all love to hate and an understanding that the blues underpins jazz.
Whatever, here we have a Billy Jenkins album of standards (OK, so that's like a Lady Gaga guide to comfy cardigans
but there we go). Just to contextualise, the album kicks off with a homage to the ultimate in 50s
hipness - the Hammond organ trio - yes, in the Jimmy Smith corner Mr Jimmy Watson (not playing Hammond) and in
the Grant Green corner the heavy weight guitar string champion of the world, let's hear it for Mr B Jenkins Esq.!
Mike Pickering's in the drum seat (he makes up the last third of the Trio Blues Suburbia) and guest soloist and
Jenkins novice, lauded and award winning altoist and flautist Finn Peters rocks in with a bluesy
chorus or two and some kissing noises.
[Maybe this is a good time to list the wonderful saxophonists who have passed through Jenkins' groups and
gone on to great things (must be something in the water).
Step forward if you please Ian Trimmer, Iain Ballamy, Mark Lockheart, Mark Ramsden, Andy Shepherd, Frank Mead,
Dai Pritchard, Martin Speake, Volker Schlott, Jason Yarde, Nathaniel Facey etc etc. OK, step back again.]
Billy takes these old jazz standards and does unmentionable things to them, lyrically and musically metamorphosing
them into something new and strange - reinterpreting the hackneyed old images,
injecting anger where anger never was, blueing the jazz.
The guitar, that guitar, still strikes like lightning,
illuminating as it incinerates,
but the emphasis here is on mood - a fifties late night mood for a fifty-somethin' guitarist.

~
CD available online at