~~~~~~~~~~~~





BIG FIGHTS No.3.

Billy Jenkins v. Thebe Lipere

12 x 3 minute rounds

BJ (guitars, electric bass, piano);

Thebe Lipere

(Djembe, bells, cymbals, jews harp, didgeridoo,

piano, wood & metal)

This Big Fight took place at Wood Wharf Studios

1.11.90

Referee and timekeeper Mr. Tony Messenger

Recorded and produced by Tony Messenger

All improvisations by Billy Jenkins & Thebe Lipere

First released on cassette August 1991 by VOTP (VOCA 910)




Original VOTP cassette sleeve notes:




'When the first two Big Fight combatants Steve Argüelles and Steve Noble were asked who would make a complimentary third 'opponent', they both independently suggested Thebe.

This fight you hear here is the first ever musical meeting between catalystic guitarist and natural percussionist.

Our correspondent writes:

"The fight took a sensational turn at the end of round two when Lipere failed to hear the bell.

Buried deep inside a bell tree the percussive pugilist perpetrated pandemonium whilst an irate Jenkins paced the perimeter.

Had the punch-drunk plank spanker been put over?

Jenkins shot back with a bass guitar stun attack.

And so it went on - exchanges coming thick and farce."

But who is the winner?

"Music, Harry, MUSIC!" '
~~~~~~~~~~~~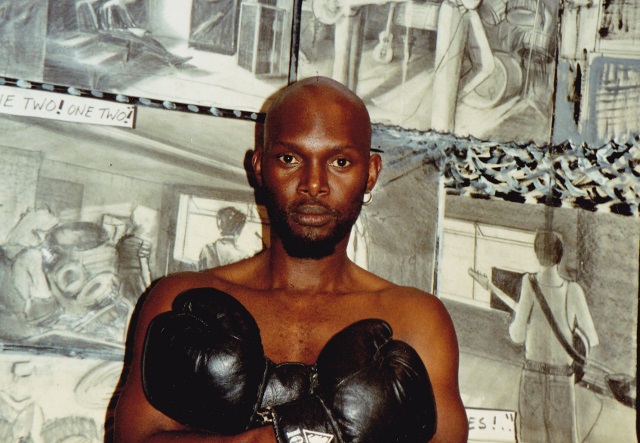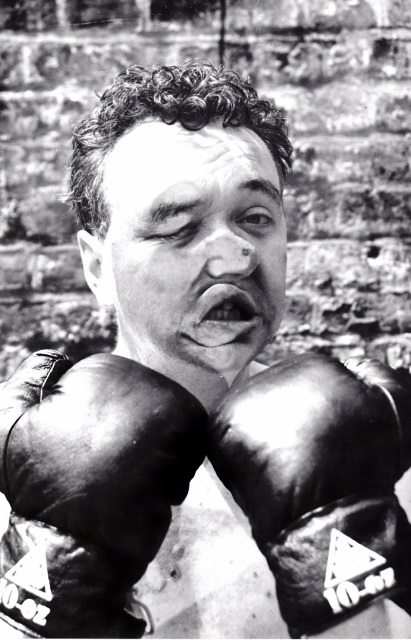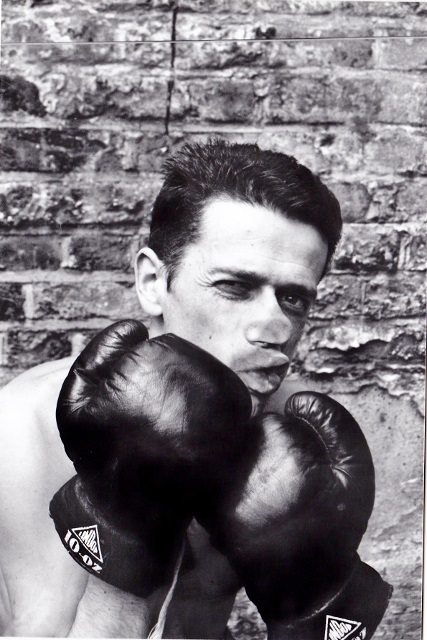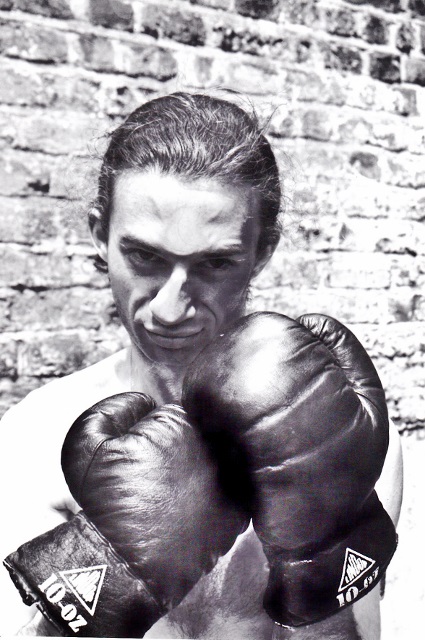 Wood Wharf training camp 1990 - Thebe 'Pretty Boy' Lipere (top) and lower l. to r:
Billy 'Git-box' Jenkins, Steve 'Ever So' Noble & Steve 'Sticks'

Argüelles.
~~~~~~~~~~~~
Big Fights! were first performed live at the 'Outside In' Festival at Crawley in September 1991.
Subsequently in 1992, European audiences got a flavour of what they were about - at the Citroën Jazz Festival at Wiesen versus Steve Noble and in Gent (including Johan 'Yo-Yo' Joos, a local Flemish speaking poet and southpaw), Linz and in Berlin as part of the Olympia 2000 Festival.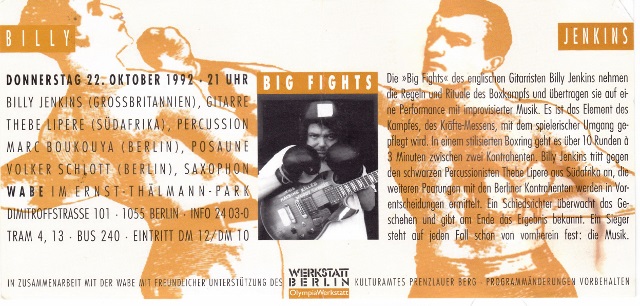 from the Werstatt Olympia Journal (Berlin) Oct.'92

A Sports Commentator writes:

' There was a ring. A proper boxing ring that gives the squeamish a slight chill. The thoughts of blood, violence and pain.

But as the house lights dimmed, the wash of ice white illuminating this proud token of (some say) barbarism was splintered by two very much non fighters eyeing up each other clutching - instruments.

A referee! The Bell! The noise!

Furious arpeggios, counterpoint, inverted chords, dis-chords, pastoral drones.
Bass and guitar necks locked - with sweat exploding.

A two minute time warp of musical invention.

The bell stops creativity, but starts the listeners' response.

Any person can face that sort of pop sized chunk. But 6, 8 or 10 rounds? Can the players sustain the creativity?
Will the listener win, or will the musicians fail to excel?

Win or lose, the ethics of sport applied to music are much more appealing than the ethics of muzak applied to sport.'


~~~~~~~~~~~~

Big Fights! performances over the years took place in:
Linz, Gent, Nottingham, Marsden, Manchester, Chester, Rostock, Vienna, Monmouth, Dublin and some
Vortex Big Fight seasons in Stoke Newington, London.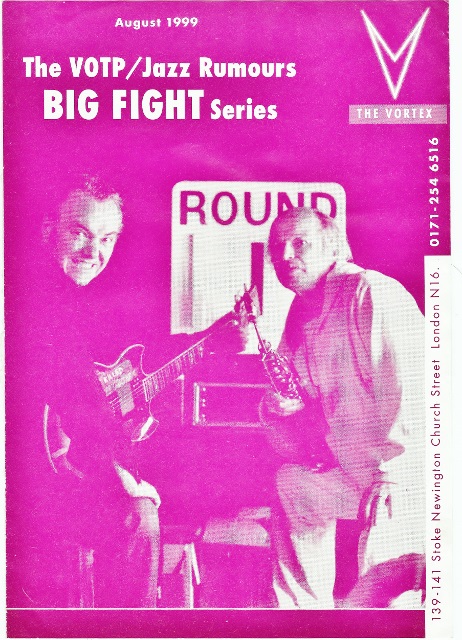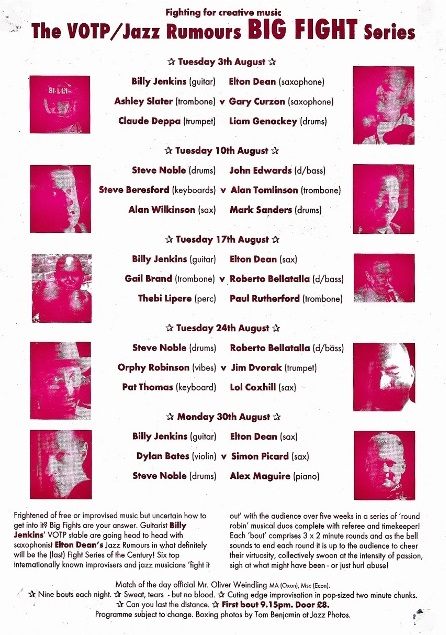 ~~~~~~~~~~~~
"Mein Gott! ! Ein Motorrad! ! Es muss verboten werden!!!"

Writing about the Big Fights! at the Vooruit Arts Cente in Gent (
televised live on national Belgium TV)
the music critic for the Belgium newspaper Het Volk blandly reported:


'This absolutely individual Briton took the opportunity to get rid of all his aggression (and he has a whole lot of it) in a real boxing ring in a musical fight against voice, wind instruments and bass'.


Whereas the Austrian jazz critics used the Big Fights! very creatively by making their comments part of the national radio transmission of the Jenkins v. Steve Noble epic at the 1992 Jazz Fest Wiesen - thus adding to the creativity themselves and indeed enhancing the overall artistry and enjoyment....!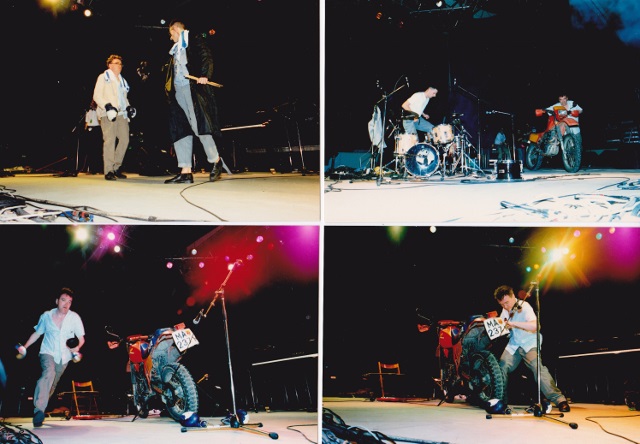 Jenkins fires up a 650cc motorcycle on the Wiesen festival stage and 'plays' the revving engine with trombone mutes
kindly loaned by Roland Bates.
Captured by local legend and photographer Helmut Riedl.

~~~~~~~~~~~~
First draft rules submitted to early contestants and Big Fight promoters (but subsequently amended) :

All fights are controlled by the VOTPBFBC and are conducted according to Wood Wharf Rules.

1. Bouts can be of six, eight or ten rounds and all rounds are three minutes (Title fights) or two minutes (Guest appearances).

2. During the intervening period of between thirty seconds and one minute no instrument can be played though musicians can move about.
This time is to be dedicated to the audience - to heckle, shout, applaud or do whatever they see fit.

3. The referee may cause the musicians to break at any time, if he believes that the music is a waste of time. Public warnings can be given at the referee's discretion.

4. At the end of the fight either the audience is able to choose the winner as being the music or the referee may choose (such as when the musicians fail to 'connect').



~~~~~~~~~~~~











Saxophonist Iain Ballamy had 'previous' as a Big Fighter...Several years before the Vortex 1997 London premiere, he took on one of Billy's (then) toddler twins.
He probably lost...





~~~~~~~~~~~~


~~~~~~~~~~~~
Over the years, Big Fight! musicians have included:

Roberto Bellatalla, Thebi Lipere, Elton Dean, Steve Noble, Johan 'Yo-Yo' Joos,
Steve Argüelles, Lol Coxhill, Michel Massot, Deirdrie Cartwright, Alex Maguire,
Gail Brand, Paul Rutherford, Mark Sanders, Louis Colan, Ashley Slater,
Alan Tomlinson, Michael Buckley, Mike Nielsen, Karl Ronan,
Steve Beresford, Gary Curzon, Liam Genockey, Claude Deppa, Alan Wilkinson,
John Edwards, Jim Dvorak, Pat Thomas, Simon Picard, Orphy Robinson,
Rod 'Room Darkener' Mason, Dave Ramm, Martin Speake, Ken Marley,
Martin 'Mad Dog' Jones, Lyndon Owen, Dave Stapleton,
Simon Pugsley, Paul Hession , Tom Bancroft and others…

~~~~~~~~~~~~

~~~~~~~~~~~~
Music in Monmouth proudly presents....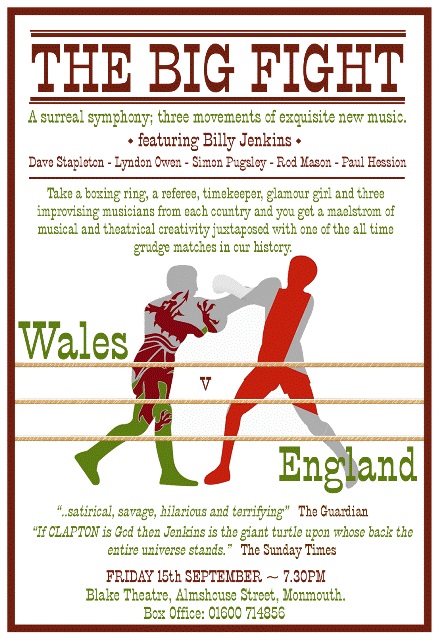 from billy.com 2006:
Here's the Tale of the Tape for the two teams who will be facing each other across the ring in Monmouth
on Friday 15th September 2006:


Ladies and Gentlemen! In the red corner, fighting for Waaaleees...!



Lyndon Owen - saxophones

Team captain

AGE: 47
WEIGHT: Above average - equivalent to one of Roomdarkener's legs
REACH: Long jab, quick stab and short honk.
HEIGHT: 4 octaves above middle C.
RECORD: Its black plastic with a hole in the middle. Oh, and I'm in the 'Guinness Book of' as part of the greatest conglomeration of sax players.