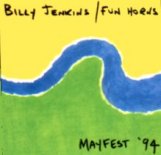 Listen to the CD on your favourite online outlet


MAYFEST '94
by Richard Russell
What happens when you take a sage British iconoclast and his Voice of God Collective (Jenkins proclaims that "the voice of the people is the voice of God"), partner them up with a virtuoso horn section from both sides of Berlin, and put the whole thing on a stage in Glasgow? Well, whatever did happen, the sound out of the mixing desk alone was deemed worthy of release. Not that this is lo-fi music: Billy Jenkins often employs purist methods but his production standards in terms of what actually hits your ears is far more adept than any teenie-pop backing track. Indeed, whereas the sound quality on 'live' recordings has been historically pretty poor, with overdubbed hysterical thousands (Queen, KLF) and guitar solos with the mistakes taken out afterwards (Zappa), it is refreshing to know that when Jenkins is at the controls, what you get is definitely what they heard. 'Mayfest' mixes Jenkins compositions from earlier albums with a few things penned by the Fun Horns seamlessly integrated in a full-throttle bravura performance in the best live jazz tradition.
'Arrival of the tourists' is a dizzy opener featuring trombonist Jorg Huke. A riff in six-eight time crosses the rhythm section in four-four, the ensemble precision generating the impetus. A trombone solo that hits the trombone stratosphere, interpolating rapid articulation, punctuated by dissonant trills from the rest of the horns. This contrasts with a more introspective piano and bass conversation while the drums break the rhythm up into quiet explosion. The rest of the band comes back in, led again by the trombone, this time with thick block chords which lead us to the coda, with a flourishing piano cadenza.

'Fat people/Clowning glory' shows off Jenkins as rhythm guitarist, taking a light-hearted ostinato figure and building the excitement by sheer force of will. The tenor leads a chorus or two of sax dialogue while the incessant rhythm pervades. A linking passage featuring a glockenspiel solo is followed by a delicate minor key chorale from the horns with muted trumpet. This breaks out into the major key and the music swells to a couple of anthemic quotes from a soaring alto. A slap on the double bass and a bit of 'slap'-tonguing from tenor sax lead the neat twist into a short reprise.