Billy Jenkins
Blues Bonanza!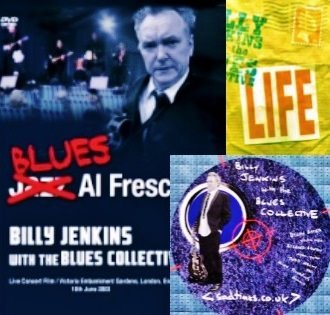 Two Billy Blues CD albums and a live DVD for
£19.99
(including post and packing)!

Two of the Blues Collective's critically acclaimed albums on CD - sadtimes.co.uk + LIFE,
together with the
Blues Collective live in concert
Blues Al Fresco
on DVD!

The Blues Bonanza is dispatched directly from Billy HQ and are only available from jazzcds.co.uk !

~


Treat yourself of introduce a friend or family member to Billy's blues - blues that comes out of his instrumental aural landscapes!

~


'Blues Al fresco catches the band at their chaotic, deadpan best.
Touches the heart, the funny bone and the soul in equal measure.'

John L. Walters / The Guardian


~

'His phrases smash through the iron bars laid down by Thad Kelly (bass)
and Mike Pickering (drums) - eeerrrgh! - with a gestural panache that
has NEVER heretofore been achieved by British electric guitarists.'

Ben Watson / The Wire


~

All three items for just

£19.99

(inc. postage and packing)!

from

Or £9.99 each (inc worldwide p+p)
from the Recordings+Shop page!!