The Billy Jenkins
Calling Card Collection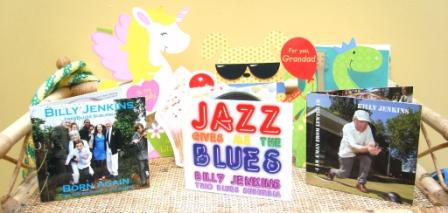 A collectable new series!
Treat your family & friends to a unique
Billy Jenkins
musical greeting card!
Limited First Edition imprints
Born Again
[and the religion is the blues]
VOTP VOCD 111
'Inner suburban morality blues songs for us all!'
+
I AM A MAN FROM LEWISHAM
VOTP VOCD 105
'Inner suburban mad jazz, hoe down, honking ska and blues!'
+
JAZZ GIVES ME THE BLUES
VOTP VOCD 116
'Inner suburban Fifties jazz played by a mid fifties musician'

Carefully crafted digifile free standing card wallets –
complete with carefully crafted Billy Jenkins music CD!
+
SPECIAL
AUSTERITY AURAL ART
OFFER:
All three Billy Calling Card CD's for just
£19.99
(inc. postage and packing)!
from
+
Or £9.99 each (inc worldwide p+p)
from the Recordings+Shop page!!