return to top of page
UK Première For Billy Documentary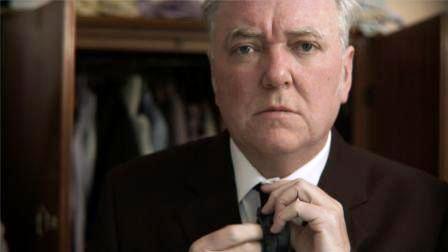 Guitar man turns gravitas....

All roads recently led to Leeds on 11th November for the UK première of 'A Man From Lewisham', a 27 min documentary about life and death and Billy Jenkins made by the London based Portuguese film maker Antonio Rui Ribeiro.
The film synopsis reads:
"Billy Jenkins, a renowned British Blues musician, has been playing his music across the UK and internationally since the 1970s. With the decline of traditional music sales and following a period looking after his father-in-law, a dementia sufferer, Billy decided to go 'where the smart money is' training to become a Humanist funeral officiant with the British Humanist Association.
"The film starts as a biographical portrayal of Billy's formative years and career spanning four decades. Weaving some solos and recorded tracks in the narrative, the documentary provides the viewer with a rare and intimate insight of his role as a humanist officiant, when on Monday 19th April 2010 Billy officiates the funeral of 39 year-old stand-up comedian Karl Edric Manson.
"The film juxtaposes Billy Jenkins love of music, his thoughts on life and death and his newer role as Blues preacher in local chapels and crematoria."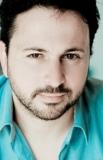 Antonio Ribeiro
Antonio and Billy first met in 2000, when Mr Ribeiro was the artistic director of The Blue Elephant Theatre in Camberwell, South London and they collaborated on a number of successful summer seasons of blues concerts.
And it is rather fitting that the UK première was in Leeds - for Billy has had quite an intimate relationship with the Yorkshire public going back to the mid 1970's. In fact, it is Dave Hatfield of the late lamented Leeds Jazz that we have to thank for factoring this showing.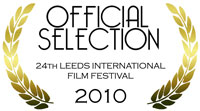 Billy Jenkins + BBC Big Band Featuring Iain Ballamy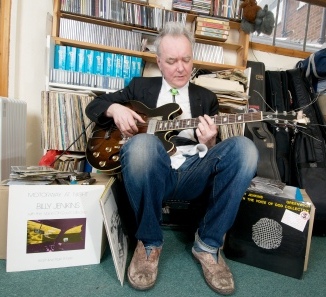 'Better git me shiney shoes on for this one!' ©Brian Aldrich

Legendary British guitarist/composer Billy Jenkins brought his 2010 renaissance to a climax at the London Jazz Festival by performing for the first time with the BBC Big Band.
Following the release of his new album, I Am A Man From Lewisham and the forthcoming Born Again (and the religion is the blues), that demonstrate the Jenkins' Mojo is still working to full effect, this was a rare and timely London appearance.
The concert took place at The Purcell Room at the South Centre on Sunday 21st November and featured five adventurous large scale arrangements (newly commissioned by BBC Radio 3) of Billy's music by Iain Ballamy, conducted with much artistry by Julian Siegal.
Ballamy, one of the world's finest saxophonists and a long serving member of Billy Jenkins' extended musical family, also guested as a soloist.
The first half featured Billy's new Trio Blues Suburbia with organist Jim Watson and drummer MIke Pickering with guest Iain Ballamy, before he welcomed the BBC Big Band onto the stage with conductor Julian Siegal for the second half of what was a truly momentous meeting of disparate energies.
The concert was recorded by BBC R3 for future transmission on 30th January 2011.

Mr Jenkins wishes to give his profound thanks to Steve Shepherd, Mike Gavin, Fiona Wootton, BBC R3 'Jazz Line Up' producer Keith Loxam, Barry Forgie, Raymond Howden at the BBC LIbrary, Shona Pew, copyist Simon Whiteside, Ian Ballamy, Julian Siegal, all the SBC staff, Serious Productions, all the musicians, and the Sold Right Out audience (who came from far and wide) for being so enthusiastic.
OH YEAH!!
About the BBC Big Band: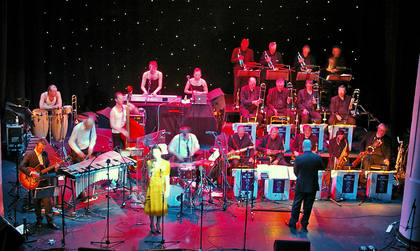 BBC BIg Band at the Cheltenham Jazz Festival 2007 ©Graham Lambourne

The BBC Big Band, sometimes called the BBC Radio Big Band, is a British band run under the auspices of the BBC and is probably best known for its long running Monday night show, Big Band Special on BBC Radio 2, but also reaches worldwide audiences through the BBC World Service, satellite radio and the Internet.
It has been voted the best Big Band in the British Jazz Awards in 1992, 1994, 1997, 1999, 2001 and 2007.
The band has played with stars such as Van Morrison, Michael Bublé, Tony Bennett, George Shearing, Michel Legrand, Cleo Laine, Lalo Schifrin, Dr. John and Ray Charles.
The band regularly features on the UK festival circuit, and concert tours with major artists have taken the band all over the world in addition to its regular concert recordings throughout the UK for BBC R2.
From Wikipedia


About the arranger and saxophonist Iain Ballamy: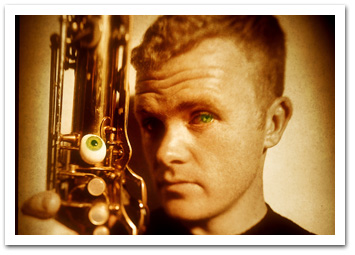 Ballamy was schooled at 1975-80 George Abbot School, Guildford. He then studied Musical Instrument Technology from 1980-1982 Merton College. He took piano lessons from age of 6 to 14.
He discovered saxophone in 1978 with three lessons and his first professional gig was in 1980. He played Ronnie Scotts as Iain Ballamy Quartet at age 20. He was a founding member of Loose Tubes in 1984. First recording with Billy Jenkins 1985 (and making a further eight albums with him) and first solo album, Balloon Man, 1988.
During his career he has performed or recorded with a wide range of top musicians including Gil Evans, Hermeto Pascoal, New York Composers Orchestra, Carla Bley, Dewey Redman, George Coleman, London Sinfonietta, Françios Jeanneau, Daniel Humair, Mike Gibbs, Randy Weston, Karnataka College of Percussion, Sax Assault, Jazz Train, Freebop, Nishat Khan, R.A.Ramamani, T.A.S. Mani, Clare Martin, Human Chain, Dr. L. Subramaniam, Tom Robinson, Charlie Watts Orchestra, Jeremy Stacey, Randy Weston, Joanna MacGregor, Delightful Precipice, Django Bates, Mark Wingfield, Jane Chapman, Bryan Ferry, Everything But The Girl, Food for Quartet, Loose Tubes, Oxcentrics, Ian Shaw, Slim Gaillard, Ultramarine, Ashley Slater, Hungry Ants, Ronnie Scott, Gordon Beck, Britten Sinfonia, and Gay Dad.
In 1999, Ballamy founded the record label Feral Records in partnership with graphic artist and filmmaker Dave McKean.
In 2005 he composed the musical score for the movie MirrorMask.
Ballamy is an agony uncle for Jazz UK Magazine with his column "In the Saxophonists Chair".
Albums recorded with Billy Jenkins:
* Greenwich (1985)
* Uncommerciality Vol 1 (1986)
* Uncommerciality Vol 2 (1991)
* Scratches of Spain (1987)
* Motorway At Night (1988)
* Jazz Cafe Concerts Vol 1 (1989)
* Jazz Cafe Concerts Vol 2 (1989)
* True Love Collection (1999)
* First Aural Art Exhibition (2006)

From Wikipedia

Uncommerciality Vol 1 - 3 Re-issued on Download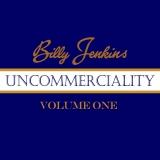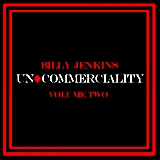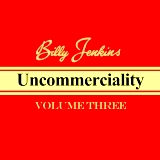 'Uncommerciality is (also) shaped with the sophistication of a major-league jazz composer. All in all it is not only Jenkins's finest hour, but a landmark in
contemporary UK jazz.' ****'
John Fordham / The Guardian
'Three sprawling, inspired sets - a landmark in warped jazz pleasure.'
John Bungey / The Times

Volume 1 of what was to become the famous 'UNCOMMERCIALITY' chocolate box series was originally released on limited edition vinyl in 1986. The three volumes were issued in 1991 on the people's music carrier, the cassette. This is the first time this extraordinary music has been reissued together in any form.
Each volume of the series respectively reflects the qualities of the chocolate suggested by the well known and much loved packaging of Cadbury's Dairy Milk, Black Magic produced by Nestlé and Cadbury's plain chocolate Bournville. Jenkins described the musical ingredients as such:
- Volume 1 is 'a milk chocolate music selection with easy listening centres'.
- Volume 2 is 'a dark chocolate music selection with mysterious centres'
- Volume 3 is 'a plain chocolate music selection with vibrant aftertaste'.
To add to the complexity Billy also composed some of the pieces (cross referencing titles, pitch, tempo or instrumentation) as a companion to songs recorded on previous (or even future) albums.
So, from Vol. 1, Pharoah Sanders cross references with the aural portraits on 'Entertainment USA' (1994) – like Ronald Reagan, Elvis Presley and others. Bhopal is a portrait of a place – as in Bilbao/St. Columbus Day from 'Scratches of Spain' (1987)
From Vol. 2, Girl Getting Knocked Over cross pollinates across to Billy's other 160 bpm road pieces like High Street / Saturday from 'Sounds Like Bromley' (1982); Greenwich One-Way System ('Greenwich' 1985); 'Motorway at Night' (1988); High Street/Part Pedestrianised ('Still Sounds Like Bromley' 1997) and Commuting ('Uncommerciality' 3).
And on Vol. 3, apart from the aforementioned Commuting – which ipso facto relates to This Is A Day To Forget and I Wanna Stay Here ('Blues Zero Two' 2002), there is Land Of the Free – again a companion piece to 'Entertainment USA' . Consumerism relates to Pointless Adorments and Coke Cans In Yer Garden ('Suburbia' 1999), We All Wear Socks and We All Eat Food ('East West' 1996).
The eighteen tracks on the three volumes were also written and programmed to play in a loop – so the opening track of Volume 2, Commerciality, in the key of A follows on from it's relative minor F#m key of Bhopal, that closes Vol 1.
Vol 2 ends in Bb – and we rise by a tone to the concert C of Marching Into Middle Age that opens Vol 3. The third volume closes with Land Of the Free (also in C) and we return to the start of Vol. 1 and Brilliant in A – the tone and a half step down to the relative minor but executed here in a major key.
In 2003, musician, social commentator and Billy listener Richard Russell penned a masterly overview on the 'Uncommerciality' series. You can read it posted on the Billy Jenkins Webzine here.
The 'Uncommerciality' series, distributed by Cadiz Digital, are available to download worldwide from your favourite online store and follow hot on the heels of the generic Jenkins 1980's albums 'Sounds Like Bromley' and 'Greenwich', which have also been recently made available online - see below.
Purchase your ear candy on the Recordings+Shop page now!

Esteemed jazz critic John Fordham gives the collection a four ****review in The Guardian. Read it here.
Classic Billy Albums Remastered for Download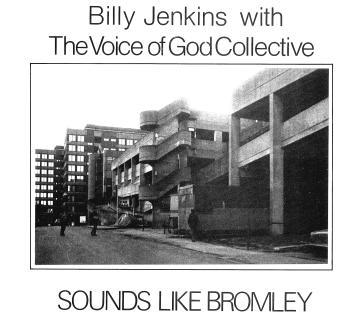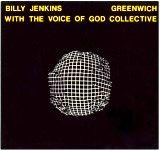 Spring 2010 saw the worldwide release of two classic VOG Collective albums for download.
'Sounds Like Bromley' (1982) and 'Greenwich' (1985) - described in the early editions of The Penguin Guide to Jazz as 'one of the most distinctive British albums of the 1980's'.
Wary of the limitations of download compression, Mr Jenkins has had these genre busting sessions remastered by the quiet genius Andy Le Vien at RMS Studios from virgin vinyl - anticipating that some of the analogue warmth will be retained
The releases are the first batch of a whole raft of download re-issues in 2010 that are highlighted on the Archive page.
You can purchase worldwide through the usual online outlets - including Amazon, HMV Digital and many others.
Fellow musician and journalist Rod Kitson has written a masterly overview of Jenkins' composing methods in Greenwich Time which can be read here.
Begin the Billy MP3 forward thinking retrospective by tapping and having a rummage in the Recordings+Shop now!
'Jazz Is A Verb!' - Glasgow Herald Trumpets Billy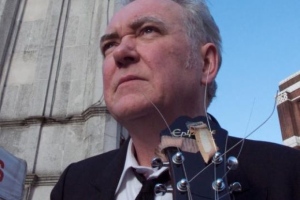 'Trumpets!? What happened to the firemen..!?' ©Steve Morrison
There's a superb article in the Glasgow Herald by that most astute of Billy listeners, Keith Bruce. He once wrote a memorable preview 22 years ago describing the guitarist as 'an arsonist - not a fireman'.
Free Download Single Released
I AM A MAN FROM LEWISHAM
FREE DOWNLOAD SINGLE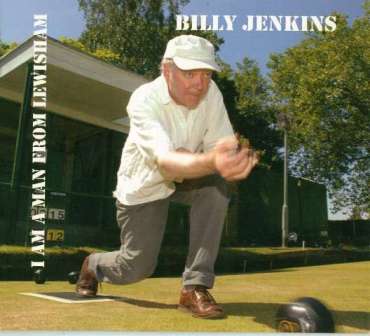 'I Am A Man From Lewisham', the title track from the new album, is now available as a free download!
Especially edited by Jenkins' long-time producing maestro Tony Messenger, it's the guitarist's first brave and belated step into this new fangled thing called 'downloading'......
It's a perfect appetizer for hoovering down the whole album and is guaranteed to put a 'spring' in your step!
OFFICIAL PRESS RELEASE FOR 'I AM A MAN FROM LEWISHAM'
Jenkins Inspired Vortex World Cup Jazz Ball Returns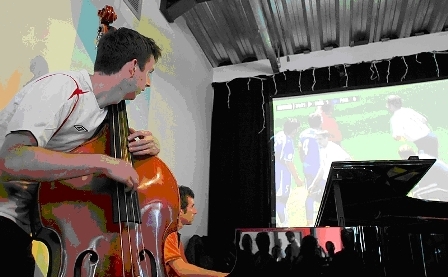 This press release from The Vortex Jazz Club:

Billy Jenkins' JazzBall extravaganza returns to the Vortex for the World Cup 2010!
Football inspired improvisation featuring some of the UK's most dynamic musicians!

Football inspired improvisational madness returns to The Vortex with JazzBall – World Cup 2010. Originally conceived by the eccentric jazz-punk guitarist Billy Jenkins, the 2010 series curator Todd Wills has put together some of London's finest improvising and jazz musicians.
They not only bring the drama of 2D televised large screen football to a more rewarding ethereal 3D experience, but also highlight the avarice of the hyper-commercialised world football industry.
"Jazz is just like football," says Jenkins. "It's the most kinetic and spontaneous art form we have. Both of them are about organising joy from chaos. And with both you get two 45-minute sets and a chance to go for a piss during the break... It's like the musicians will play to a giant musical score," says Jenkins, "by following the bouncing ball on the screen." Will there be 'Jaws'-style leitmotifs?
Will, say, Ashley Cole's appearance on the screen be accompanied by a recurring theme? The music will represent the national characteristics of each side – we've got a few musicians versed in Gyspy / East European music playing from Slovenia. "They'll be representing every tackle, every pass, every shot, every save.
The band will be fading the TV commentary and crowd noise in and out. You've also got to watch those off-the-ball skirmishes – just like the footballers, our players will be having little battles behind the referee's back.
And, when the TV shows an instant replay, the musicians will have to play exactly what they've just played again, only in slow motion… And watch out for the penalty shoot outs! You'll have trumpeters against bassists and drummers!"
12th June - ENG v USA (7.30 KO)- Paul Clarvis – live in Gillett Square
14th June - ITALY v PARAGUAY (7.30 KO) - Dave Morecroft
16th June - SA v URUGUAY (7.30 KO) - Nick Ramm
23rd June - ENG v SLOVENIA - (3pm KO) - Zac Gvirtzman (Gypsy Jazz Night)
26th June - URUGUAY v SOUTH KOREA Up B (3pm KO) - Steve Noble
27th June - GERMANY v ENGLAND (3pm KO) - Chris Batchelor
11 July - THE FINAL:
Shabaka Hutchings/ Alex Ward / Steve Noble
v
Alan Wilkinson + 2 tbc
kick off 7.30pm. Tickets: £6
Vortex Jazz Club, 11 Gillett Square, London N16 8AZ
BILLY JENKINS WILL NOT BE PERFORMING HIMSELF DURING THE SERIES
For tickets or more information please call the Vortex office on
020 7254 4097 or go to www.vortexjazz.co.uk

The Evening Standard were present for the first event. You might be able to read their jazz critic Jack Massarik's incisive review online somewhere....
Catch Him While You Can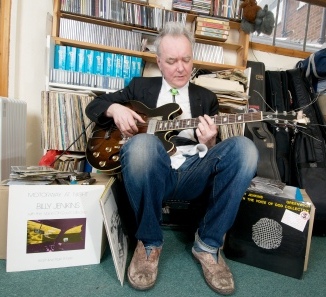 'Does this mean I've got to put proper shoes on...? ©Brian Aldrich

Despite a busy schedule this year of recording and creating and conducting Humanist funerals, Billy happily agreed to appear live onstage at two local events in June.
Saturday 5th June saw him steering an ad hoc Brockley Blues Collective, that strangely seemed to contain three half size performers - a dancing vibemeister, a shy flautist and a broken armed ukulele strummer, who kept the full sized musicians - Finn Peters on alto sax and flute, Oren Marshall on tuba, bassist Charlie Hart and drummer Mike Pickering - on their toes through a crackpot set on top of Hilly Fields as part of the marvellous Brockley MAX festival.
Lewisham Mayor Sir Steve Bullock was seen stage-side grinning hugely and hundreds of family picnic-ers seemed to enjoy both marvellous weather and inspired music from the ensemble......

Mike Windus captures on his camera what looks like creche - not a cutting edge ensemble....

Secondly, on the evening on Thursday 17th June, the guitarist also contributed a short solo set as part of a Gala evening celebrating fifty years of the Lewisham Humanists - and a wonderful humanist occasion it was indeed, with a keynote talk by Andrew Copson, Chief Executive Officer of the British Humanist Association, white knuckle comedy from Jeanne Rathbone, a brilliant discourse on blasphemy and cartoons by The Guardian's Martin Rowson ; wonderful speeches by the incomparable Denis Cobell, Billy's inspiring funeral officiant mentor and the legendary Barbara Smoker - all impeccably compered by marvellous Isabel Russo!
There was one more date in the book where folks were able to hear Billy live this summer.
Friday July 9th at the wonderful Brooks Blues Bar at The Telegraph in Putney, London SW15 saw the return of Billy with bluesmeister and fellow guitar twanger, songwriter and singer Steve Morrison as they presented their popular, topical two man Here Is The Blues! show to a well attended, hot, sweaty and appreciative crowd.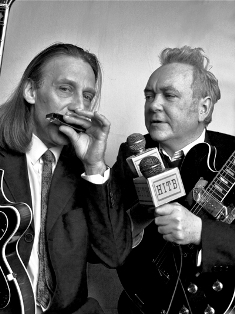 Supporting Musicians' Rights.Supporting Music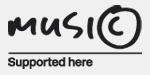 Whilst enjoying the free 'I Am A Man From Lewisham' single you might well have downloaded onto your iPod or laptop - spare a thought for the plight of the music makers the world over.
In today's internet-sharing world, it's never been easier for original music to be hijacked, plagiarised, copied or just plain nicked. That's why music copyright has never been so important.
Copyright is important for musicians because it safeguards the rights to their own music. And it's important for music fans because it pays for musicians to make more music.
A new campaign has been launced by The Musicians' Union (MU) and Billy was one of the first to pledge support. It's committed to making sure that everyone respects the value of music and the huge part it plays in our lives.
But we can't expect the right to enjoy music unless we respect the rights of the people who make it. And if musicians do want to give their music away, they should be in control of the process - as here, as Billy has opted to give away 'I Am A Man From Lewisham' for free. And, hoping you enjoy the fine music making, you might hopefully purchase the whole album.
By supporting musicians' rights, the Music Supported Here campaign is supporting music.
Billy In Session On BBC R3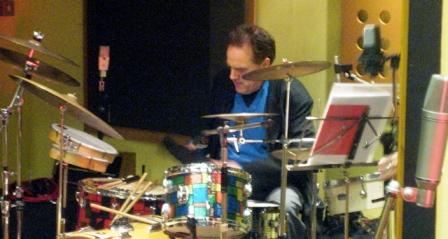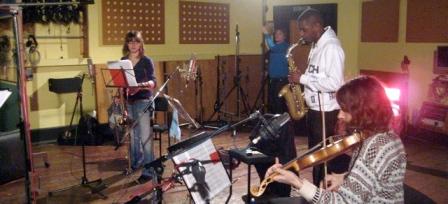 Captured in session! ©Steve Shepherd

On the 10th May Billy led his all star six piece 'Songs of Praise' ensemble through a high powered studio session recently recorded especially for BBC R3's 'Jazz On 3'!
Produced superbly by Peggy Sutton and the interview edited to perfection by Kathryn Willgress, the bandleader was also heard in conversation with comedian, writer and long time Billy listener Stewart Lee, who interviewed Jenkins in his South London home about this session and his life in music, including his early days performing 'jazz and jokes' at The Comic Strip comedy club, his seminal band the Voice of God Collective - and how his recent work conducting Humanist funerals has influenced his music. And as can be seen by the photograph below, a convivial time was had by all!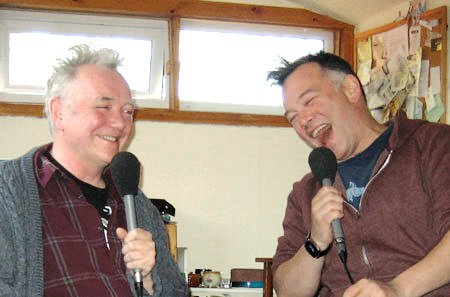 Bill and Stew get 'serious'....
I Am A Man From Lewisham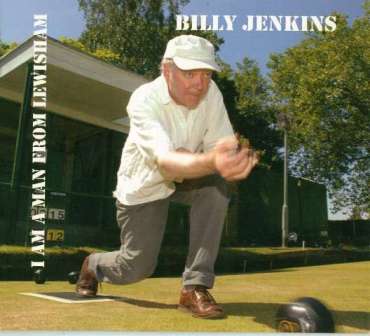 At last! After an enforced hiatus away from the business due to personal, artistic and economical complexities, the new Billy recording has arrived!
Released worldwide on 12th April, you can also purchase the CD by spanking this Recordings+Shop link!
You can download the album worldwide (and other Billy releases) from most online stores.
Featuring his 'Songs of Praise' ensemble, we at billy.com have to modestly say that, once more, this music is truly the Sound of the City. Not many musicians are documenting and making us take a step back to pause and appreciate our daily surroundings like Jenkins does.
By gathering clusters of musicians to resonate along the bylaws laid down by the composer (with full endorsement to exercise ones human rights and right of freedom for the benefit of all) - he creates a celebratory aural Love Fest of stinking, joyous, wonderful civilization.
And, here in the UK, as we teeter towards an insipid tick box totalitarianism-lite 'think as the law says you will do' madness - we must treasure the sound of free speech.
By humans. Not robots......
Spank that Recordings+Shop link now - CD available worldwide for £9.99 (including p + p).

OFFICIAL PRESS RELEASE FOR 'I AM A MAN FROM LEWISHAM'

All CD's Now £9.99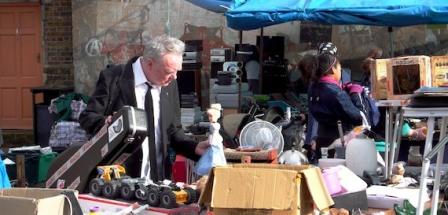 '£12.99 for a life size Pixie Lott doll..!?! I'm better off buying one of my own albums!'
©Steve Morrison

Thanks to a generous and supportive gesture from the Babel Label, every Billy CD and DVD available at www.jazzcds.co.uk or by cheques direct via the Billy Office are now priced at £9.99 - and that includes post and packing world-wide!
All orders from jazzcds come direct through the Billy Office - so you can be assured of an efficient and conscientious service!
Enjoy some real music (whilst helping Billy earn enough to pay some tax) by spanking the Recordings+Shop link now!
Move Over Ben 10 - It's Billy 10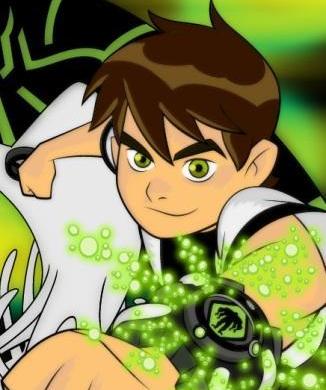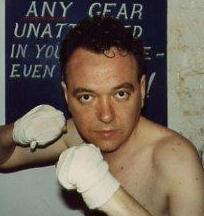 Is it Billy 10 (circa 1991).........or Ben 10 !?!

".... and he found an alien pod on the ground. When he examines it, in it he finds a mysterious, large broach-like device, called a guitar, stored inside. The device attaches permanently to his chest and gives him the ability
to transform into a variety of musical life-forms, each with their own unique powers.

Although Billy realizes that he has a responsibility to help others with these new abilities at his disposal, he is not above a little super-powered mischief now and then. Along with his musicians, Billy embarks on an adventure to fight musical inertia, both cerebral and earthy.




billy.com is proud to announce that 2010 will see the launch and re-launch of a number of Billy Jenkins albums supported by a concerted media campaign and live events designed to promote the great guitarist as a national treasure and one of the unsung British musicians in any genre.

The releases will be in four batches:


Spring 2010.....

New CD I Am A Man From Lewisham and reissue of two titles: Sounds Like Bromley (1981) and Greenwich (1985) digitally reissued for the first time (direct from virgin vinyl!). These three titles continue Billy's cycle of recordings inspired by his South East London manor.


Summer 2010....

Reissue of the Uncommerciality series (three volumes 1986 – 1992) as digital downloads (previously these three releases were only available on chocolate box cassette).


Late Summer 2010.....

Reissue of the live Jazz Café Concerts Vols 1 & 2 (1990) and Wiesen '87 (1992) - previously only available on cassette - as digital downloads.


Autumn 2010.....

New blues album Born Again (and the religion is The Blues..)! and first digital download issue of the three Blues Collective albums sadtimes.co.uk (2000), Blues Zero Two and LIFE (both 2002).


Live....

Taking advantage of the promotional activity that will surround these releases, and as a focus for the year a concert or mini-festival celebrating Billy's music through the extended musical family that is and has been the Voice of God Collective.

Billy has collaborated with some of the finest young jazz players through his long serving collective and has worked with the cream of British jazz talent. The concept is to get as many of these players as possible together to create a kind of mini-Meltdown with Billy curating (and playing) – a tribute to Billy and a celebration of the Voice of God diaspora.


Promotion.....

The new CDs will benefit from a full press campaign (PR guru Fiona Wootton has agreed to spearhead the campaign for I Am A Man From Lewisham) including specialist and general, national and local print media, online and new media outlets, radio and TV.

For all Billy 10 campaign press and communications contact Fiona:

E: Fiona@sebandfiona.com M: 0793 953 3183

And bookmark this page for updates now.

Billy Fails Again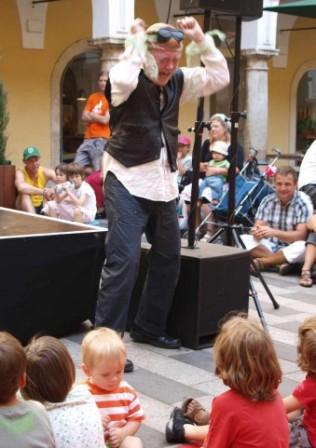 Billy!! You can't fly...!!! You're a 53 year old man with no wings...!!
photo © bananko
Once more Billy The Aviator fails to fly - this time as Tom Bancroft's award winning Kidsamonium invaded Austria and the LaStrade Street & Puppet Theatre Festival during the first week of August.
Top photographer bananko has captured the sensitive guitarist in full 'huffy puffy' mode and you can enjoy more of his Kidsamonium in Graz photos here!
Kidsamonium are next scheduled to appear in Lisbon, Portugal in June 2010.
However, Billy won't be with them!
'There's no point in kidding myself,' grizzled the grizzled guitarist.' I just can't fly. So I can't get to Portugal....'
Rumour has it that Mr Jenkins refuses to tolerate the 'guilty until proven innocent' charade of airport security, ever changing restrictions on carrying musical instruments and just the stress of trying to actually get to the airport in good time as just some of his reasons why he is remaining firmly grounded.....
Humanity And Resonance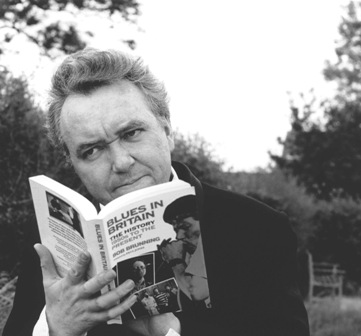 ©Simon Thackray

Since July of 2008, Billy has been immersing himself in his parallel vocation as a Humanist Officiant and has now helped create, construct and conduct quite a few non religious funeral ceremonies.
Unsurprisingly, growing a 'grief proof' skin has not been easy, as one has to emphasize with next of kin during such a torrid time and already he has had to confront a wide range of emotional scenarios which resonate deep inside. And Jenkins, behind that gruff exterior, is a rather sensitive soul.
Apart from the service to fellow human beings, the concept of ritual and ceremony for such an absolute event is providing the composer in Jenkins with some fundamental inspiration.
For the 'resonation' he is imbibing is slowly coming out in a series of solo classical guitar studies which he has started to record at Equator Studios under the engineering and worldly wise production skills of Charlie Hart.
Digging deep into the guitar's lower register, he is utilising his experiences into various 'Remembrance' meditations, using different keys as the fundamental base.
'It's about finding those notes that resonate the mind and body. Re-introducing the attack and retardation of notes lost with download limitations', says the guitarist - who might be adding cello to a couple of the pieces.

UPDATE:
Jenkins had hoped to compose and complete the music before returning to the studios by the end of 2008 to finish the recording - but the combination of Officiant duties and the virtual collapse of CD sales put the project on hold.
Save Our Sound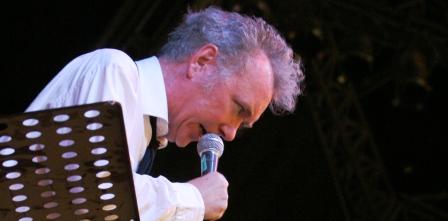 'Oy! Bureaucrats! We can't shout any louder!! ©Helmut Riedl

In the good old days, musicians were entwined with analogue tape. Now the only tape musicians are wrapped up in is the colour red.
We at bj.com have been documenting the complexities and resulting fallouts of the 2003 Licensing Act; the 2007 smoking ban; the 2008 EU legislation that forbids noise over 85 decibels in the workplace which is playing havoc with the classical music world, the virtual collapse of record sales due to illegal downloading and file sharing; the Metropolitan Police Clubs & Vice Unit Form 696 - not to mention the costs and stress of getting musicians and instruments from A to B when market economics can't afford to cover all those 'hidden extras'.....
And now, there's another worrying logistical cloud on the horizon - for Ofcom will shortly sell-off the radio frequencies that the music and entertainment industry and charitable sectors rely on, with auction proceeds going to the Government.
As a consequence of this 'migration', the vast majority of the UK's stocks of wireless microphones, which are essential tools for content production in the creative industries and beyond, will soon be rendered unusable!
If productions that depend on these technologies are to continue, then all affected equipment (worth tens of millions of pounds) will need to be replaced with gear that can operate on different frequencies, which remain for the most part unspecified. But those who own the equipment either cannot afford or will seriously struggle to cover the enforced costs of replacing entire inventories of valuable equipment. It is like a compulsory purchase order with little or no compensation.
THE CONSEQUENCES OF THIS WILL MEAN......
If current proposals are implemented, ALL PRODUCTIONS AND BUSINESSES THAT DEPEND ON THE USE OF THESE TECHNOLOGIES WILL BE UNDER THREAT, from the freelance sound engineer to the Olympics, because of the way that the UK's pool of equipment is held and supplied. The effects will be particularly severe in the short to medium term:
• Live music, news gathering, musical theatre and other events are likely to
become impossible to stage;
• Companies will go bust, individuals will go bankrupt and employees will be made
redundant;
• The UK's balance of payments will be severely affected;
• Charitable and community organisations will have to divert funds from core
services.....
All we can say is - get thee to the Save Our Sound UK campaign site now and register your support.
This Makes Us Smile




Beaker.......or Thad Kelly?!

Trawling through the lawless copyright ignored badlands of the internet ether, bj.com came across this Youtube clip filmed by photomarky - and we have to concede it's delightfully daft!
It seems to be Blues Collective bassist Thad Kelly on his way to a gig - whilst listening to the sublimely sexy 'I Love Your Smell' from Billy's Blues Collective CD
sadtime.co.uk.
Try the smile test here.
Billy Bids Farewell To Leeds Jazz


Billy brought The Fun Horns of Berlin to Leeds in 1996 - seen here at the Wiesen
Jazz Festival, Austria two years earlier. ©Helmut Reidl

All roads (well, in Billy's case, the A206, A2203, A406, M11, A14, A64, A6120, A58 and B6159....) led to Leeds on the 24th October as Mr Jenkins performed a solo set as part of a week long celebration of Leeds Jazz 25th anniversary.
Sensationally, having performed for them a dozen or so times over the last twenty two years, this was the last time Billy will ever play for Leeds Jazz - for, after a quarter of a century of marvellous music making, the promotion is winding down!
A marvellous night of celebration was held amongst friends both on and off the stage. Apart from the usual 'expect the unexpected' solo musings of Jenkins, Jan and Stefan Kopinksi (together with Led BId drummer Mark Holub) offered their full on power sounds - and the dulcet duo of the divine Ms Christine Tobin, accompanied by glorious guitarist Phil Robson, made it a night to cherish!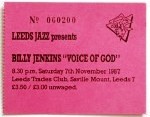 The Leeds Jazz site has a complete archive of all the 350 or so concerts they've put on - see the list of Billy shows, along with fascinating PR flyers down the years here and scrolling down.
Entertainment Licensing Update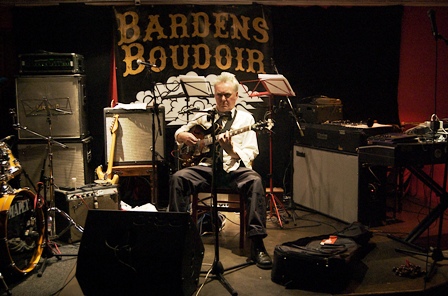 This single guitarist needs a license to strum.
300 screaming, foot stamping football fans don't.... ©Olivia Caussanel

Under the 2003 Licensing Act, a performance by one musician in a bar, restaurant, school or hospital not licensed for live music could lead to a criminal prosecution of those organising the event. Even a piano may count as a licensable 'entertainment facility'.
By contrast, amplified big screen broadcast entertainment is exempt. The government says the Act is necessary to control noise nuisance, crime, disorder and public safety, even though other laws already deal with those risks. Musicians warned the Act would harm small events.
About 50% of bars and 75% of restaurants have no live music permission. Obtaining permission for the mildest live music remains costly and time-consuming. In May, the Culture, Media and Sport Committee recommended exemptions for venues up to 200 capacity and for unamplified performance by one or two musicians. The government said no. But those exemptions would restore some fairness in the regulation of live music and encourage grassroots venues..........

Tireless campaigner Hamish Birchall sends the following:
The Number 10 live music petition calling on the Prime Minister to implement new entertainment licensing exemptions for small gigs reached over 9,000 signatures in the first week of September.
Many more signatures are needed if the petition is to make an impact on the press and politicians. If you haven't already signed, please consider signing and circulating the petition link.
Meanwhile, there are increasing signs of desperation at DCMS.
On the 14th August, The Publican magazine published an online article headlined 'LGA forced to apologise over live music stats'. This highlighted the LGA's retraction of their mistaken 80% live music venues claim, now reduced to 55%.

The first reader to post a comment was one Adam Cooper:
'The 2007 report found that 76% of pubs and clubs have a licence allowing them to stage live music, even though less than half (44% in 2004) historically staged live music. Don't trust me, read the report'
This comment, including a link to the 2007 British Market Research Board survey, was clearly intended to give some comfort to the LGA. But who is Adam Cooper, and how reliable is the 76% statistic?
It turns out that Adam Cooper is Dr Adam C Cooper, Head of Research at DCMS. I recognised the name from email correspondence we had last year over this very BMRB survey - the one which headlined with the finding that there had been a 5% fall in live gigs since the Licensing Act came into force. But even when I disclosed his identity in a comment on The Publican article, he did not confirm his job title.
He defended his response, adding: 'I do work at DCMS, but nothing I say represents the Department's official stance - I am acting only as an interested member of the public.'
Once again this raises questions about potential conflict with the Civil Service Code of Conduct which centres on four principles: honesty, impartiality, objectivity and integrity. This point was made in comments posted by two other readers of The Publican article. Is it ethical for a senior civil servant to post comments on a public article about government research in which he is closely involved, without disclosing at the outset his close involvement in that research? Was he authorised to do this by ministers? Personally, I believe Dr Cooper is in breach of the code and I have made a formal complaint to DCMS.
But this doesn't mean that the 76% claim should be ignored. Dr Cooper clearly believes it is a reliable figure. The first objection, however, must be that the BMRB survey is two years out of date. Secondly, as I pointed out in The Publican, more than half of interviewees knew little or nothing about the legislation, which tends to undermine confidence in their knowlege of the premises licence. The BMRB questionnaire did not ask whether the interviewee was actually responsible for the licence. Indeed, it found that about 40% interviewees were probably not working at their venue in 2005 when old licences had to be converted to the new ones. A further caveat is that the licensing arrangements in about 20% of all pubs are handled centrally by the managing company. Lastly, even if a licence has a live music permission, the survey did not look at licence conditions, such as the restrictions on performer numbers and music genres found in St Albans. If live music licence conditions are not implemented, putting on live music remains illegal.
All in all, then, the BMRB 76% does not look like a robust statistic. DCMS could have established the percentage far more reliably by searching local authority public licensing registers, as the St Albans group did. These record not only entertainment permissions but also licence conditions.
So, we're back with 55% as the best estimate for the overall proportion of premises licensed to sell alcohol that are also licensed for live music. This is derived from the more recent DCMS alcohol and entertainment statistics, sourced from local authorities - although even this figure is about 18 months old.

Spotify-ing A Loophole....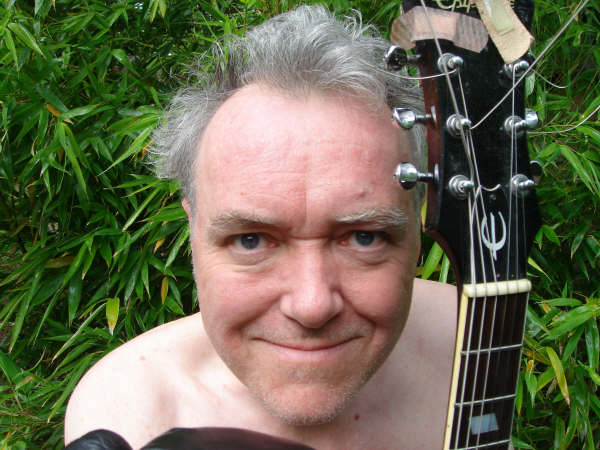 It's a jungle out there! ©Alice Lemmard

Now we know that Mr Jenkins is not exactly up there when it comes to cutting edge technology - but is he alone in discovering the supposed 'listen only not downloadable' Spotify streaming music programme (also used by others) can be easily downloaded to keep forever by simply inserting a mini-jack plug into the headphone socket of your PC speakers and recording onto a CDR/cassette/ DAT/ or Mini-disc!?!
No wonder only 1 in 20 downloads are paid for and even the venerable Andrew Lloyd Webber is rightly concerned that 'online piracy will cause composers to lose their livelihoods'.
And that is why, with the record industry dying, Billy has gone where the smart money is and has gone one step on from the blues to conduct Humanist funerals....
And it's not just composers and musicians who are in effectively being rendered pointless. Spare a thought for all the record labels, fast diminishing record retailers and distributors......
Interesting and turbulent times...!

EDITORS NOTE:
Please let billy.com know if Mr Jenkins has got his MIDI leads in a twist unnecessarily......
World Sanguine Report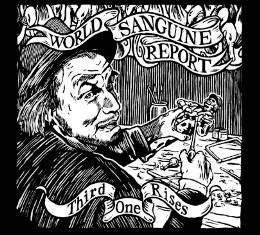 Scary gruff singer and composer Andrew Plummer invited Billy to play guitar on two track with his World Sanguine Report band.
The CD, 'Third One Rises' has just been released on the Gravid Hands label.
Plummer, recently noted as 'one to look out for in 2009' in December's Jazzwise by Dan Spicer and Selwyn Harris, forged together World Sanguine Report to render his unique breed of 'snuff-jazz' (The Wire).
Featuring award winning, innovative musicians from the London and Leeds New Music scenes, World Sanguine Report form a frightening and formidable ensemble: strength and beauty, heavy as lead. Plummer's music reinterprets musical genre through juxtaposition of compositional techniques, cut throat improvisations and song.
Beginning with nods to strophic forms and memorable melodies, the musicians systematically disassemble structures, tonalities and rhythms throughout the course of the record, as if holding back a tide of cacophony.
Drawing on a wealth of influences (Nancarrow, Scelsci, Beefheart, Messiaen, Waits, Patton to name a few) as a vehicle for Plummer's "sonorous vocals and brooding performance", the result is a violent and beautiful journey, capturing "the despondency and antagonism of the most disaffected and alienated elements of Western counter-culture".

'Third One Rises' album personnel:
James Allsopp - reeds
Alex Bonney - trumpet
Matthew Bourne - piano and gongs
Tom Greenhalgh - drums
Dave Kane - bass
Andrew Plummer - vocals and elec. guitar
With special guests:
Helen Evora - vocals
Billy Jenkins - elec. guitar
Jason White - violin
Enter the frightening world of Plummer at www.myspace.com/gravidhands or
andrewplummer.co.uk
Hysteria, Fear & Live Music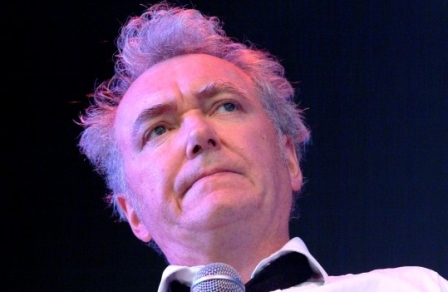 Bunkum! ©Werner Maresch

A fascinating urban myth has exploded on the internet. A petition was recently placed on the official Prime Minister's website urging the government 'not to introduce sound control devices as a legal requirement in entertainment venues'.
It is one of the top five most popular open petitions.Yet it is completely unfounded.
This from the genius Musician Union consultant, lobbyist and percussionist Hamish Birchall, after Mr Jenkins sought his advice:
"It is a false alarm. I talked with the petitioner, Warren James, then checked with the Department for Environment, the Health & Safety Executive (HSE) who confirmed my suspicions. I put out a circular advising that it was a false alarm on 14 January.
The rumours on which the petition probably started (early 2008) coincide with the end of a 2 year moratorium of enforcement of Noise at Work regulations in the entertainment sector. But the HSE confirmed that even under that legislation noise limiters cannot be enforced.
Here is a copy of my 14 Jan circular:
How badly does the government treat live music? Here's a quick test. One of the two statements below is false. Which one?
1. The government has made it a potential criminal offence merely to have a piano in a bar for the public to play.
2. The government is planning new law requiring all music venues to fit noise limiting devices.
Answer: Statement 2 (TRUE!!)
Yesterday the Department for the Environment, Food and Rural affairs (DEFRA), responsible for noise legislation, denied any such plan. And, a few days earlier, when I spoke to the petitioner, Warren James, a professional guitarist based in Coventry he was unable to recall where he had heard about this new legislation. Now Warren has acknowledged that it is all bunkum. "

While musicians sympathise with Warren's feeling about noise limiters, the petition text reveals a fundamental lack of knowledge about existing law and as Billy sees it, proof that musicians and music lovers are genuinely startled and concerned about the absurd continuing attempts to stifle creativity and music making by an ongoing conveyor belt of legislation - hence the impressive number of names added.
There is also a second slightly concerning issue. The Prime Minister's office obviously knows this is a pointless adornment and no doubt will soon pour soothing PR oil 'allaying fears' - whilst, on the same site, rejecting any petitions against the expansion of Heathrow......!!
Seems democracy is being eroded along with the music....
More Live Music Legislation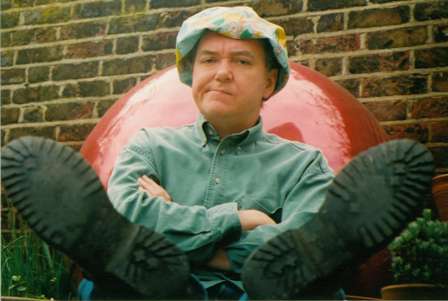 Worn out boots and brain... ©Nick Corker

Mr Jenkins has just had a most interesting chat with a very nice spokeslady from the Metropolitan Police Clubs & Vice Unit (!) about the new Form 696 that the police in London have introduced as a voluntary way of offsetting possible violence at music events.
Although well intended, if not a little 'tick box barking' ('state the type of music you play' is just one racially contentious question they ask. They also want the names, addresses and telephone numbers of any performer), Mr Jenkins naively thought disquiet about Form 696 had been blown out of proportion. Thankfully, musician and political activist Hamish Birchall has bought the following to Billy's attention:
"Perhaps unsurprisingly, given the publicity, the Met has not given you the full picture. Form 696 has been around for a while, and it is still voluntary - in a minority of London councils. Over the past year 21 of the 33 councils within Greater London have incorporated it as a potential licence condition within their Statements of Licensing Policy, along with the Met's definition of events to which the form applies:
'This definition relates to events that require a Promotion/Event Risk Assessment Form 696. A significant event will be deemed to be: any occasion in a premises licensed under the provisions of the Licensing Act 2003, where there will be a live performer(s) – meaning musicians, DJs, MCs or other artiste; that is promoted in some form by either the venue or an outside promoter; where entry is either free, by invitation, pay on the door or by ticket.'
See: http://www.lambeth.gov.uk/moderngov/ieListDocuments.aspx?MId=6464 (search within the document for '696')
That is a very broad definition. It could apply to a harpist in an empty hotel lobby. There is absolutely no indication that only large problem venues are in the frame. If the intention was to use it for large nightclubs where there have been serious problems, why is that not clear in the definition of a significant event?
The police do not need 696 or indeed the Licensing Act to intervene at a venue where they believe there may be a breach of the peace. For a long time now the police have had that power under separate legislation. Where a council makes completion of 696 a licence condition it becomes a criminal offence not to comply. Max penalty: £20,000 fine and six months inside. You may be confident that the police and local authorities will only ever use such power proportionately. I would not share that confidence and I believe the campaign to scrap Form 696 as currently implemented is fully justified.

Many thanks Hamish, for once again unearthing yet another unsettling complexity for live music - not just for London, but something that could spread throughout all English local authorities!

The 2003 Entertainment Licensing Act...... the implosion of recorded music sales.... the 2007 smoking ban........the 2008 EU legislation that forbids noise over 85 decibels in the workplace which is playing havoc with the classical music world.....mobile phone intrustion during concerts.....the constant ebb and flow of folks popping out for a cigarette.....WHAT HAVE MUSICIANS DONE TO DESERVE ALL THIS!?!
More Musical Marginalisation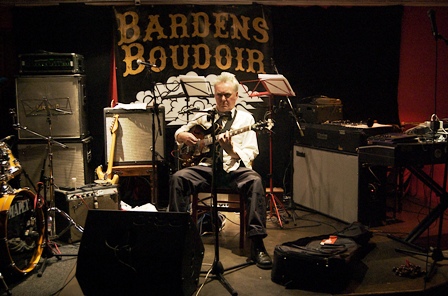 Jenkins challenges anyone to dare to leave the room..... ©Olivia Caussanel

A disturbing and unsettling new social practice is occurring in pubs and clubs throughout England - disturbing for those who like their live music and unsettling for the musician.
For although the smoking ban means a musician can return home with smoke free clothes, the cost is yet further erosion of the power of music.
We've already had the 2003 Entertainment Licensing Act closing live music premises then the smoking ban in 2007 creating further business casualties.
Ignore the complete implosion of the recorded music industry, or the 2008 EU legislation that forbids noise over 85 decibels in the workplace which is playing havoc with the classical music world - the issue here is aimed at the grass roots performer.
We're not even talking about the guaranteed mobile phone intrusion.....
Now, at any venue that does not have designated seating, there is a constant ebb and flow of folks popping out for a cigarette.
'This not only causes distraction for the focused listener', says guitarist Billy Jenkins, who has been a bandleader and performer for over thirty five years, 'it erodes the confidence of the performer.'
'Is someone leaving because they hate the music? What have we done to upset them? Why are they walking out? They would rather have a fag then respect the fact we've travelled hours to play for them and have hours to get home.....all these thoughts go through one's mind. I've seen troops or four or five people walk past the sight lines of keen music fans past the front of the stage. Bang goes any empathy you've built with those in the room.'
Something to seriously ponder when you have your next cigarette......
A Little Colour In This Economic Gloom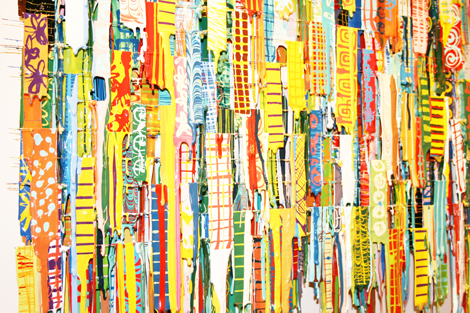 Size:78cm x93cm © Russell West Fine Art Limited

A fine oil on wire board work by Margate based artist Russell West to brighten the gloom surrounding the world's financial markets. Mr West has many striking works in this style and is represented by the Woolff Gallery.
But why is this being displayed at billy.com!?
Because Mr West was so inspired by the performance of Billy and the Songs of Praise ensemble at the 2007 Margate Jazz Festival, he contacted the bandleader and asked permission (duly granted) to use one of Jenkin's song titles for the title of this joyous painting.
So we at billy.com are proud to not only laud the work of such a fine artist, but to show off the painting entitled 'Jazz had a baby, They called it avant-garde' !
You can view more of Russell West's wonderful paintings and sculptures at www.russellwestfineart.co.uk.
OH YEAH!!
The JAZZ CIRCUS Comes To Town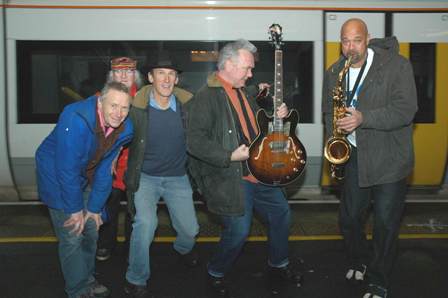 Trumbling, rolling, bouncing - Jazz Circus! ©Miles Dell

Beat poet, polemic and performance activist Jazzman John Clarke can be seen in the above photograph hiding second from the left, as he proudly presents Jazz Circus - a freewheeling extreme freefall improvising unit featuring (from left to right) drummer Mel Wright, double bassist Charlie Hart, our very own Billy Jenkins and saxophonist Jimmy Beckley.
Their CD 'What Jazz Can Do For Your LIfe' (Waterline Music Splash 13) was launched at a jam packed (of course!) Jam Circus in London SE4 on the evening of Sunday 8th March, followed by a short explosive set at the Telegraph Hill Festival a week later.
The Jazz Circus recording is, at the moment, the only chance to hear Billy playing guitar in the studio from 2008. And far from us to say any different - he is in amazing form in a free jazz impro sense!
Kidsamonium Concert Cancel Conundrum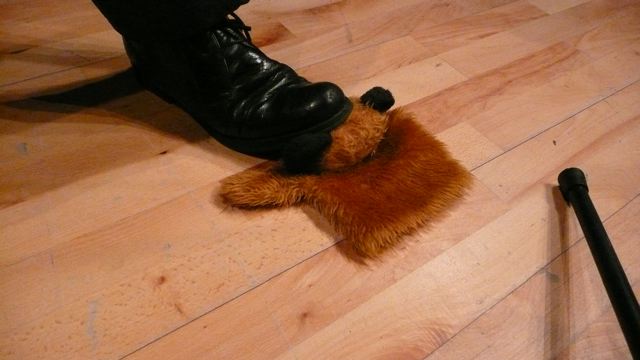 The terrible moment... ©2008 Joost Buis

Confusion surrounds the cancellation of the final KIDSAMONIUM tour date, which was scheduled for the magnificent Perth Concert Hall on Sunday 21st September 2008.
Tom 'The King' Bancroft, the mercurial inventor of the whole mad extravaganza, cited logistics over a series of pre concert workshops, which had floundered due to personnel changes in the local schools education department.
But we at billy.com aren't convinced.....
Photographic evidence, courtesy of The Dutch Tourist, Joost Buis, suggests that the real reason the concert was cancelled was due to the terrible stage accident that befell Smelly The Glove Puppet (Sooty's less talented twin brother) whilst on-stage at Ullapool five night earlier.
Having performed 'Smelly's Blues' with his usual aplomb, he flew high in the air, only for him to land with great force under the oversized buffoon boot of Billy the Aviator.
Rushed to the Toy Hospital, he was given a once over by a junior toy doctor, who diagnosed 'minor frontal stage dirt' and Smelly gamely performed the next show, after a day's rest, in the magnificent Kilmarnock Grand Hall to 850 screaming fans (well, they were only 7 and 8 years old...).
However, his usual brio was somewhat lacking and he collapsed in the wings after the first set.
Doctor Bancroft (himself a doctor, which is why he's Doctor Bancroft), although not really a Toy Doctor, prescribed no broken bones, but recommended a complete rest.
'The show must go on', whispered a pained puppet to his puppetmeister.
'What did he say?', asked the anxious troupe hovering over the stricken chap.
'He said - "The snow must be gone"', replied The Aviator. 'He's deluded. He doesn't know where he is. If Smelly can't perform, neither can I'.
And with that, The Aviator stomped off blubbing 'I can't fly! I can't fly! - thus ending the tour there and then one date short.
That's what we at billy.com think really caused the cancellation of the final tour date.......
In a bizarre twist to the sorry saga, Jenkins was then sighted over then next few days wandering forlornly around the foyer of the Perth Concert Hall attempting to purchase whole rows of tickets for the cancelled KIDSAMONIUM show......
Whither The Composer?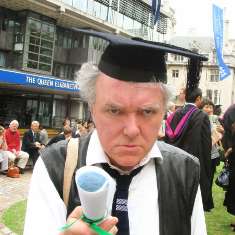 In the spring of 2008, guitarist and programme maker James Hodder interviewed Mr Jenkins on aspects of his composing for a half hour radio documentary and he probably got far more material than anticipated.
'Short shrift' would be to understate the suggestion that Jenkins used similar techniques as Frank Zappa. Jenkins found that rather offensive.
'For a start', fumed the Bromley born again bluesman, 'Zappa's music has no soul whatsoever. He was a supreme technician as a composer and arranger. But, as a guitarist, he was quite incapable of playing over anything other than a two chord vamp. He was also a control freak, an excellent businessman and a capitalist. I am none of these things'.
Jenkins also refuted the charge of satire and humour in his own work.
'Yes, with Burlesque in the seventies and The Fantastic Trimmer & Jenkins in the 1980's, that was satirical. But my composed music since that time has bought out the joy of collective music making that makes people smile, and it is that which gets mistaken for satire'.
Prompted with some astute questioning by Mr Hodder, Jenkins also raised the very contemporary problems for composers of broad band downloading and recorded sound and EU directives regarding live performance.
'For me, downloaded music played through tiny speakers is useless. The retardation of notes are denied. There is no air to be heard. Mechanical presumption takes away the spirit of the acoustic instrument. I'm not sure what the way forward is. I'd rather bring out a 45 rpm 7" single with the Here Is The Blues! electric guitar twang duo than offer an impotent downloaded rendition of a larger ensemble. There'd be much more fun to be had marketing the former, that's for sure!'
'As for live performances, no one knows how these new EU rules that forbid noise over 85 decibels in the workplace will affect living composers. We've already had a cancellation of a work by Dror Feiler by the Bavarian Symphony Orchestra in Berlin. Again, there is huge turmoil. No one can predict the way forward.'
And that was just Billy J warming up...!
Meanwhile, not so much 'whither the composer' but, rather worryingly, wither the composer......

The half hour radio programme by musician and broadcaster James Hodder and entitled 'The Diatonic System Still Lives' was broadcast on in the London area on Resonance Radio 104.4FM on Monday 7th July 2008.
The programme synoposis read:
'The Diatonic System Still Lives' - James Hodder examines the work of Frank Zappa, Captain Beefheart and Billy Jenkins in order to discover how relevant traditional Western Ideas are in musical composition and whether they affect creativity. Also featuring Ben Watson and Mike Barnes.
Mr Jenkins was delighted with the show, considering his dislike of broadcast compression and sends his congratulations to Mr Hodder for an impressive documentary!
billy.com are trying to source a listen back option for interested parties..
Interesting YouTube Videos Found


Fascinating footage has surfaced from 1998, when Mr Jenkins organised the first ever football World Cup USA v Iran big screen live improvisation for two trios.
Captured by Jem Soar on Super 8, it gives a taste of the madness and fun of superimposing aural creativity over on screen visual excitement.
There's also three short trailers of Tom Bancroft's Kidsmonium - where Billy can been seen actually flying!
Get thee to Billy's YouTube playlist and, as they say, 'enjoy'.......
An Inspired 'Here Is The Blues!' Review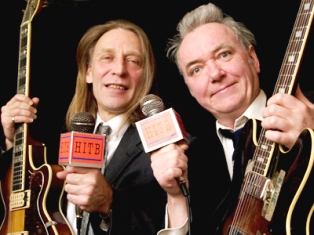 ©Richard Phipps

A great Here Is The Blues! review by Billy Hill has been posted on the excellent Blues in London website.
It captures the excitement of the duo's recent performance at Brooks Blues Bar in Putney and begs the question why the pair arn't enjoyed in public more often.
'It only takes an email from a booker to discuss things,' says Mr Jenkins, 'and although we're not great travellers - you never know...'.
Considering they've just returned from two very successful blues festivals in Portugal it can't be a fear of flying that restricts their schedule, nor too many road miles, as both musicians are seasoned drivers.
'But I have to confess, traffic on the road is often a deciding factor,' says Jenkins. 'Getting to Heathrow for 6am is a whole lot easier that heading through town in working hours. Sadly, more often than not in the last few years, I've arrived at a gig totally shattered from a far too overlong journey. And that is no good for me or the audience.'
A glance at their Here Is The Blues! website, will give you all the information you need to see and hear - including some sweet concert footage.
There's also a lovely clip filmed by Paul Young from the HITB! Vortex Chess Sessions on the Vortex website here.
Get thee to the Blues in London site (Reviews page) and savour......
BBC Apologise To Billy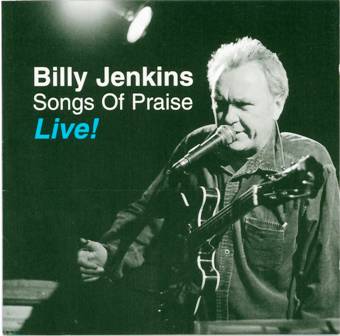 Thanks to some diligent reporting by local journalists Mark Chandler (The Newshopper) and Lawrence Conway (South London Press/Mercury), the BBC have issues an apology for having two video clips of Billy's 'Songs of Praise'ensemble removed from YouTube - see story below.
The Billy Office was contacted and spoken to by the charming Robert Brosgill on the telephone and also sent the following email:

Dear Mr Jenkins,
Further to our conversation a moment ago, I can confirm that the BBC takes no issue with your use of the name "Songs of Praise" for your band.
As I explained, the BBC actively seeks to protect the copyright in its programmes and routinely flags copyright infringing content on Youtube and other such sites for takedown by the website administrators.
It recently came to the BBC's attention that a great deal of footage from the BBC's "Songs of Praise" programme is being made available on Youtube in breach of copyright.
It appears that, in dealing with the high volume of BBC "Songs of Praise" content on Youtube, your legitimate content may have been accidentally flagged for removal. I can assure you that the BBC makes every effort to ensure that only infringing content is flagged and there was no intention to remove your legitimate clips.
With kind regards.
Yours sincerely
Robert Brosgill
Solicitor, BBC Litigation & Intellectual Property Department
BBC Censor 'Songs of Praise'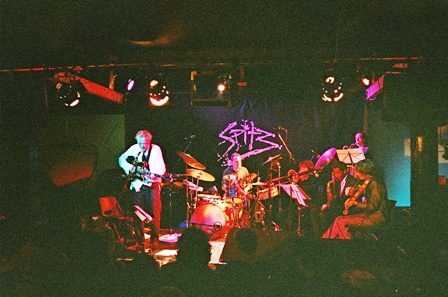 The BBC says you can't hear this band...! ©2006 Bob Fitzsimmonds

Two clips of live performances by Billy's Songs of Praise band have been
removed from YouTube, after the BBC claimed an 'infringement of copyright'.
Quite how they deem the tracks 'Dreadnought Seaman's Hospital' and 'Blues Is Calling Me' (being performed live at the late, lamented The Spitz in October 2006) to be under their jurisdiction is rather unsettling.
Do they presume that no one is allowed to sing songs of praise!?!
It is understood that there is quite a pro faith quorum in the hierarchy of the BBC - but this is surely a misunderstanding?
Filmmaker Dave Eyre is remaining diplomatically mute, for until this confusion is resolved, he risks all his work being removed from YouTube. Mr Jenkins awaits a ratification with bemusement.
"It's hilarious," says Jenkins, "our national broadcast company not only considers the name of a television programme to be their exclusive copyright even when used in other contexts, such as, in this case, six musicians performing their own secular musical songs of praise - but also deceive those believers they make religious programmes for by pre-recording what are considered 'sacred' days sometimes months ahead of their actual date which, were I believer, I too would consider an 'infringement of copyright'."